Wayanad, nicknamed the "green paradise" has a great adventure spots, leisure trails, heritage spots, trekking spots etc. Some of them are listed below with distance from Mintflower
Thirunelli Temple - 70 Km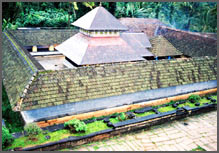 Thirunelli Temple (also Tirunelli) known as southern Kashi is an ancient temple dedicated to Lord Vishnu. According to tradition, Lord Brahma was travelling the earth upon Hamsa the swan when he became attracted by the beauty of the area now known as Brahmagiri Hill. Descending in that spot, Brahma noticed an idol set in an Amla tree (gooseberry tree). Brahma recognized the idol as Lord Vishnu and the place as Vishnuloka. With the help of the Devas, Brahma installed the idol and called it Sahyamala kshetra.
Edakkal Caves - 12 Km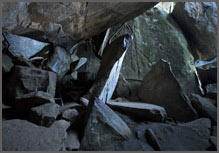 Etchings found on the walls of these caves have drawn the serious attention of archeologists and historians worldwide. It is assumed that the Edakkal had been inhabited at various stages in history. A telescope installed by the DTPC that offers a panoramic view of the surrounding country is another attraction.
Jain Temple - 1 Km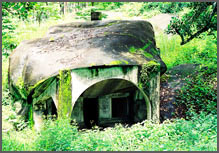 This temple is one of the most important amongst a series of ruins spread across the state of Kerala that testify a period of strong Jain presence in this region. Believed to have been built in the 13th century, it served as a Hindu shrine and eventually as an ammunition store for Tipu Sultan's marching armies.
Papanasini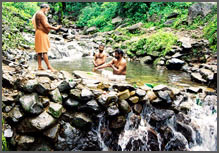 Papanasini means "washes away all sins". According to tradition, Vishnu granted the power of the Papanasini river to wash away all sins as a boon to Lord Brahma, after Lord Brahma installed an idol of Vishnu at Thirunelli Temple. The Papanasini became the purificatory Ganges of the Keralites. The final rites to ancestors, held on the Pindappara rock, became famous as equivalent to Gaya Sreaddham. The story about this rock is fascinating; a demon Paashanabhedi, cursed by Vishnu, repented and asked for deliverance from that curse and He converted him into this rock.
The Kuruva Island - 40 Km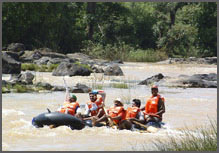 The Kuruva Island with 950 acres of evergreen forest lies on one of the tributaries of the River Kabini. This calm and peaceful island is home to a variety of birds, butterflies and orchids.
Muthanga Wildlife Sanctuary - 15 Km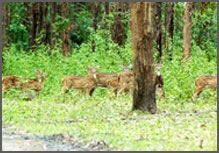 Spread over a vast area, Muthanga is part of the Nilgiri Biosphere Region. It's a rain forest reserve connected to two major sanctuaries-Bandipur National Park in Karnataka and Mudhumalai Wildlife Sanctuary in Tamilnadu.
Pookote Lake - 40 Km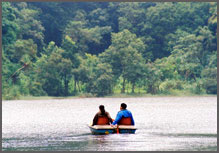 The fresh water lake nested above wooded hills, is the only one of its kind in Kerala. It is one of Wayanad's top visitor draws.
Chembra Peak - 38 Km
At 2100 metres, the spectacular Chembra Peak located towards the southern part of Wayanad is the tallest summit in the region. Climbing this peak is a challenging task and would take a full day.
Phantom Rock - 10 Km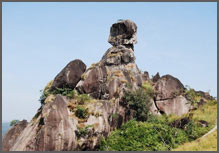 Located close to Ambalavayal town, Phantom Rock, named so because of its skull head shape, is locally called Cheengery Mala. The immediate surroundings offer excellent photo opportunities